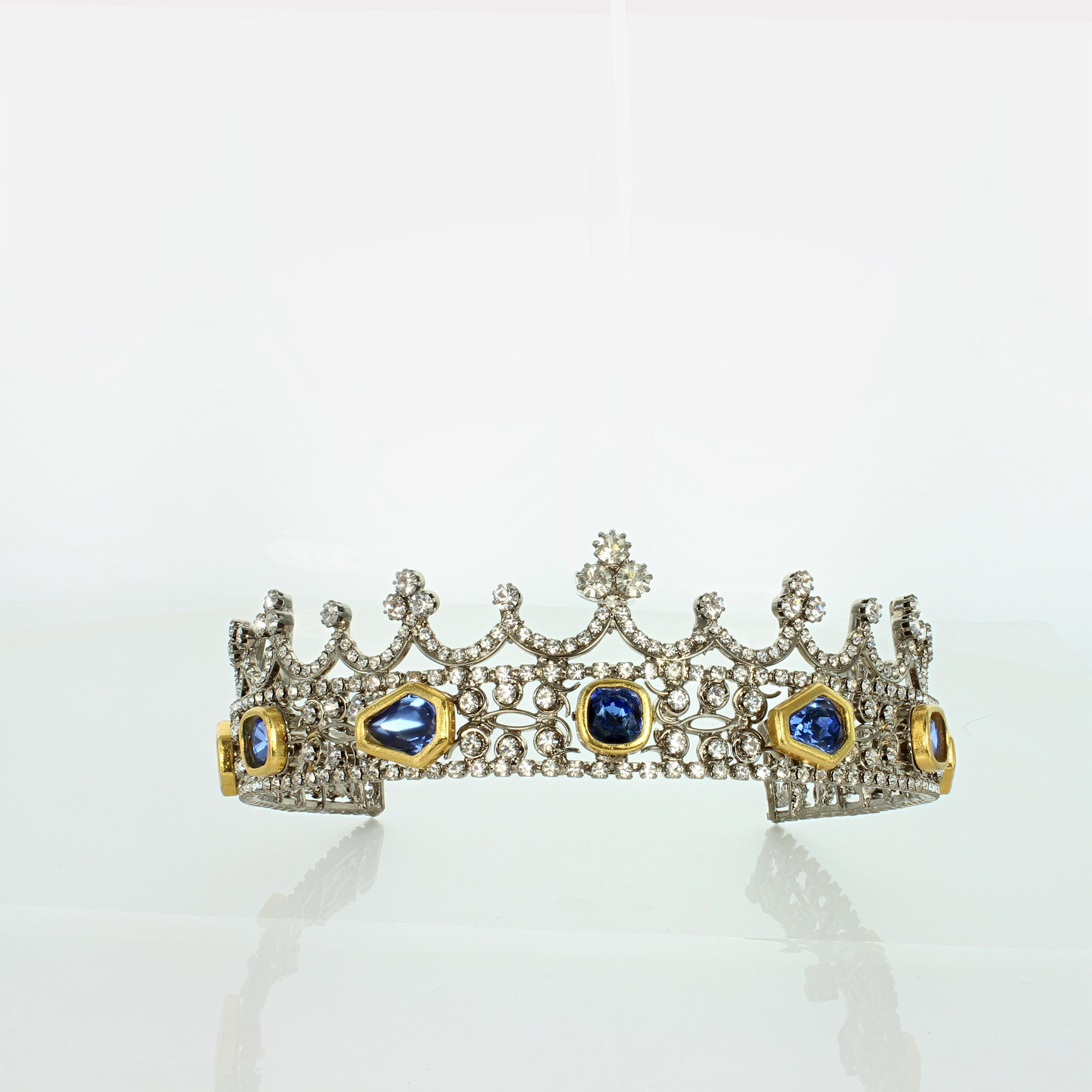 This design was among the many progressive interests of Prince Albert, Queen Victoria's husband, and that interest extended right into his wife's jewellery collection.
The tiara was likely inspired by a diadem from a portrait of Queen Henrietta Maria, The sapphires – both cushion- and kite-shaped – are set in gold, and the diamonds are set in silver..
This was one of the pieces that was small enough for Victoria to deem appropriate for use during her subdued widowhood. But after she passed away, this flexible Gothic design went unseen as Queen Alexandra and Queen Mary focused on larger tiaras. It finally surfaced again in 1922 when Princess Mary, the only daughter of King George V and Queen Mary, married Viscount Lascelles. Henry Lascelles would eventually become the Earl of Harewood, and Mary the Countess. The King gave his grandmother's tiara, along with a matching parure, to his daughter as a wedding gift.
Mary died in 1965, and the years following her death saw her family auction off many items of her jewel collection, including the parure that went along with Queen Victoria's Sapphire Coronet. The tiara, however, managed to stay in the family for many more years. At the least, it was worn by Patricia, Countess of Harewood (George's second wife) and by Andrea Lascelles at her wedding to the Earl's fourth son, Mark, in 1992.
Without a royal wearer, though, the tiara fell out of the public eye. While putting together an exhibition for Wartski's in 1997, Geoffrey Munn wrote to the Earl wondering if he had any pieces with royal provenance. His inquiry prompted what must have been an amusing call from the Countess, telling him that they had just one and it was "so small you probably will not want it." Naturally, he did want it, and it was exhibited in 1997 and again at the Victoria and Albert Museum (appropriately!) in 2002.
In 2016 it was revealed that a London dealer had sold the tiara to an overseas buyer. The sale was successfully stopped by the Culture minister when the buyer applied for an export licence. Because the coronet is a highly important piece with great historical significance, the temporary export ban will allow more time to find a buyer that can match the requested price of £5 million and keep the coronet in the United Kingdom.
Height 4 cms
Diameter 13.5 cms
Item No: 65-020
Contact us about this item