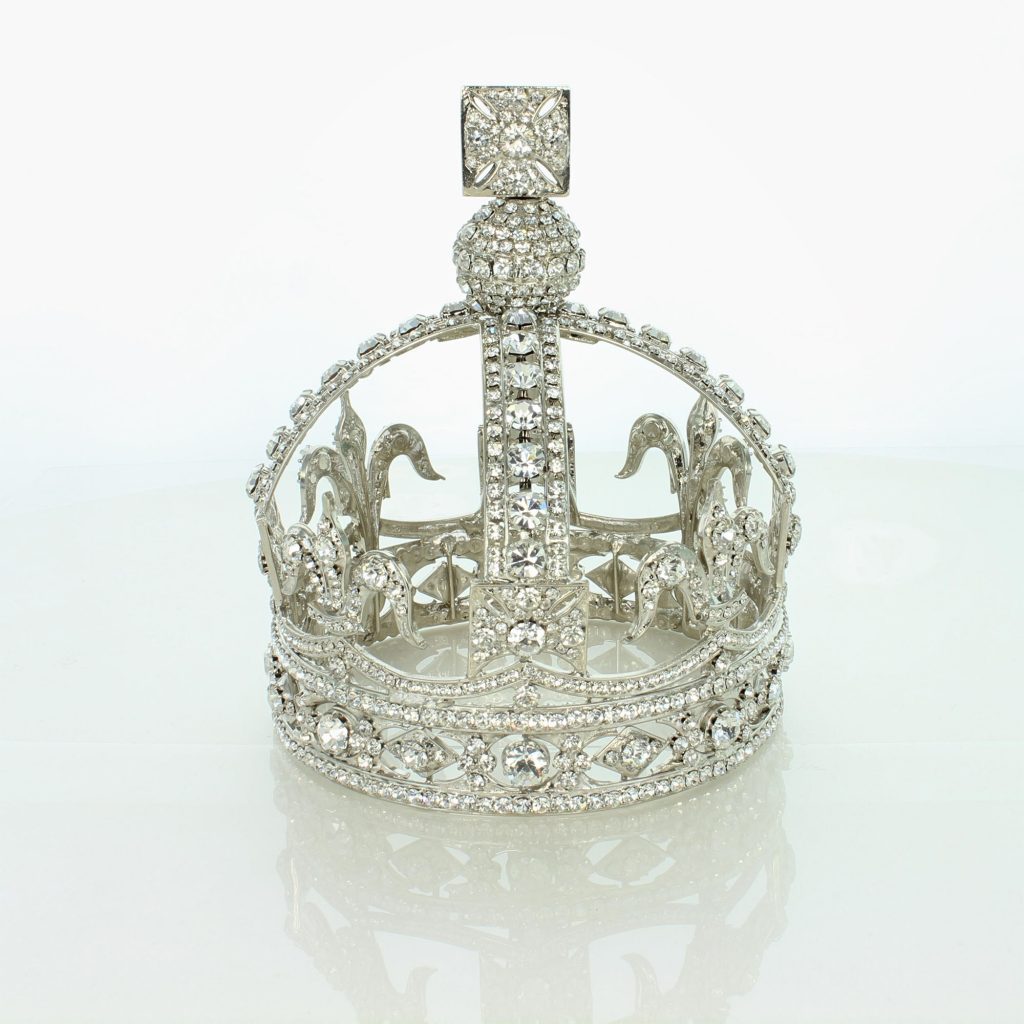 This crown, the lightness and elegance of which set it apart from other British crowns, was commissioned by Queen Victoria for her personal use.
She found the Imperial State Crown too heavy, and very much resented the complicated procedures involved when removing the crown from the Tower of London.
The small crown is a beautiful structure of heraldic Tudor form, which was made at Queen Victoria's own expense in 1870. It is the crown perhaps most closely associated with Queen Victoria. Such was the association that the crown was placed on her coffin before her funeral.
This crown has a touching history. Following the death of her husband, Prince Albert, Queen Victoria withdrew from public life and wore widows weeds until her death in 1901. Government pressure made her return to public life in 1870. Queen Victoria refused to wear the Imperial State Crown partly because it was too heavy, and also because it was impossible to wear her mourning veil. The new small crown was created as a replacement. Because of its size, it could be worn on top of her mourning veil, so meeting the ceremonial needs of the British monarchy as well as her own desired form of dress as a widow.
The design of the crown followed the standard designs of British crowns. It is made up of four half arches which meet at a monde, surmounted by a cross. Each half arch runs from the monde down to a cross pattee along the band at the bottom. Between each cross pattee is a fleur-de-lis. The crown does not have an internal cap, as it was set on the Queen's widow's cap. The crown is made of silver. It contains 1187 diamonds, which were allowed in mourning, unlike coloured stones. The diamonds all came from a necklace owned by Queen Victoria.
Queen Victoria first used the crown at the State Opening of Parliament in Westminster on 9th February 1871. She wore it on all state occasions after that date, whenever she was required to wear a crown. Technically the crown belonged to Queen Victoria herself rather than to the British Crown, and therefore did not form part of the British Crown Jewels. In her will, Queen Victoria left it to the British Crown. In 1937 King George VI ordered that it should be moved from Windsor Castle and added to the Regalia kept in the Tower of London where it remains on show to this day.
Height: 9,4 cm,
Diameter : 9 cm.
Item No: 60-001
Contact us about this item