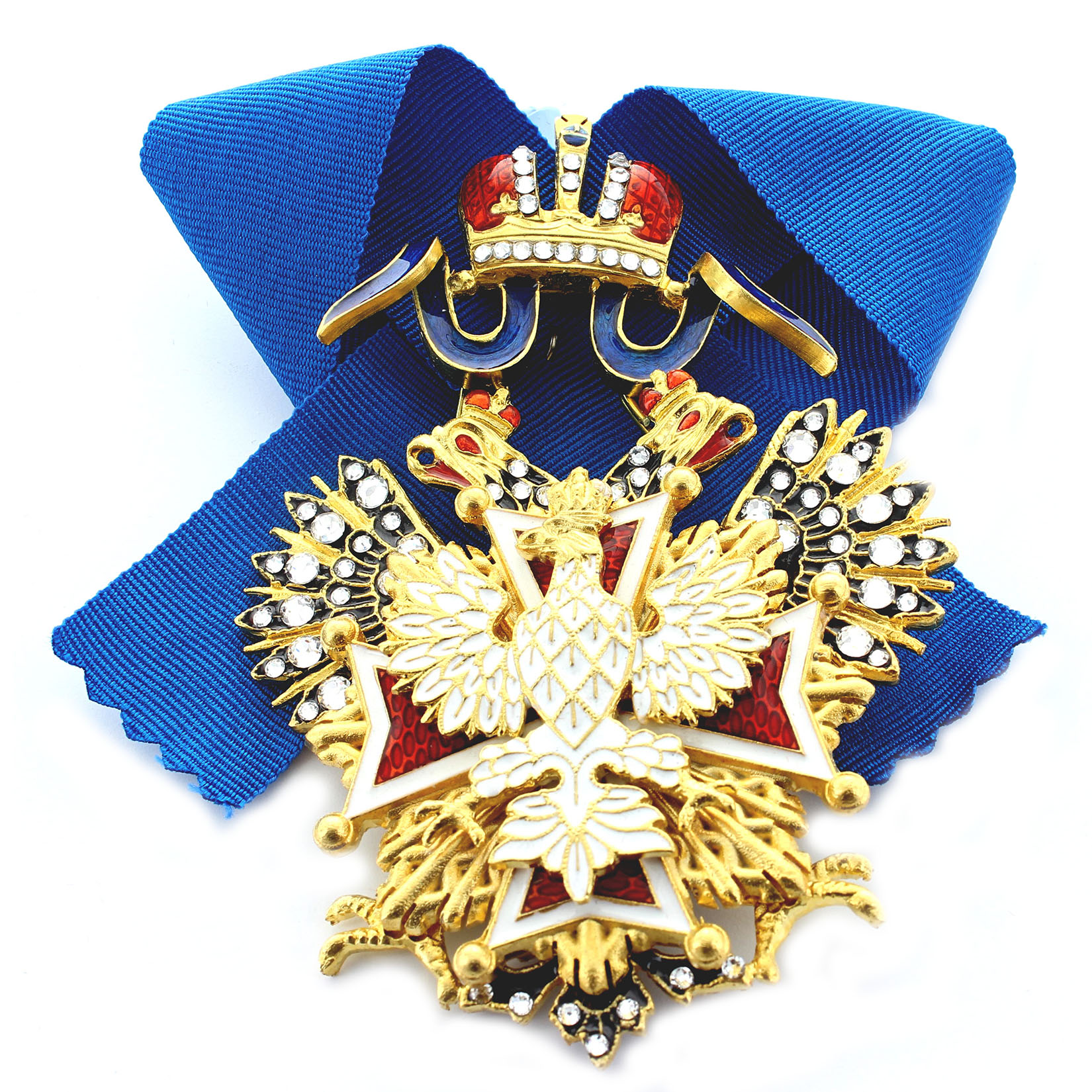 The Order of the White Eagle was an Imperial Russian Order based on the Polish honour. Emperor Nicolas I of Russia established the award in 1831 as the Imperial Order of the White Eagle. The recipient of the order was granted Knight of the Order of the White Eagle.
The White Eagle has been associated with Poland even prior to statehood.  It first appeared on the Polish Coat of Arms in the 13th century.  The original Order of the White Eagle (Order Orla Bialego) was established by the King Wladyslaw I in 1325.  There is no evidence of it being awarded, however, until 1705 under Augustus II the Strong, King of the Polish-Lithuanian Commonwealth. 
After the Third Partition of Poland in 1798, the Order of the White Eagle briefly disappeared along with the Polish Monarchy.  After his death in 1798, Empress Alexandra wore the collar of the Grand Master of the Order at Nicolas's coronation as King of Poland.  The Order was resurrected in 1807 by Napoleon I in his short lived Duchy of Warsaw.
In 1815 the Congress of Vienna divided the historically Polish lands among Prussia, the Austrian Empire and the Russian Empire. 
The Order of the White Eagle is mentioned as belonging to the Kingdom of Poland in its constitution in 1815.
The Polish civilian and military Orders, of the White Eagle, Saint Stanislaus and the Cross of the Military, are preserved. (Ordery Polskie cywilne i woyskowe, to iest: Orła Białego, Świętego Stanisława i Krzyża Woyskowego, są zachowane.)
During the years immediately following the Congress of Vienna, the badge and cross of the Order were awarded with the same Polish insignia, but the majority of the recipients were Russians or members of the Austrian Empire.
After Russian troops put down the Polish uprising of 1830-1831 Nicolas I stripped striped the autonomy of the Kingdom of Poland and adopted all Polish orders of merit.
Item No:  40-042
Contact us about this item